Veteran Nollywood actress Genevieve Nnaji is allegedly battling with mental health issues.
According to a recent report by controversial Nigerian blogger Gistlover, the beautiful actress is currently down with psychosis and has been admitted to an undisclosed hospital in Houston Texas for treatment.
Gistlover alleged that her ailment began some months ago, but her people decided to keep it away from the public. Fans have been wondering why the 43-year-old actress decided to wipe her Instagram posts and unfollow everyone.
Read: 'I'm suffering from d!ck' – Lady laments (video).
But Gistlover alleged that it was her close companions that achieved her posts after they managed to seize her phone to stop her from posting weird stuffs. They accused the famous actress of drug abuse and urged her fans to pray for her to recover.
Read their statement below;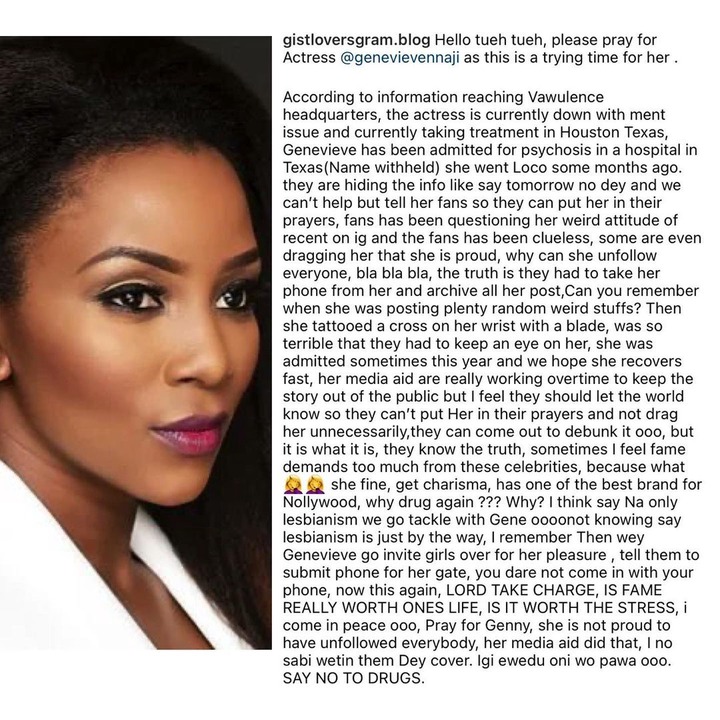 Meanwhile, the actress has previously been posting some mental health related stuffs on her IG. Like when she advised her fans to rededicate their life to God, as "mental health is spiritual." Read below;