There is no denying the fact that Kylie Jenner is a style icon for her legion of fans. They say that imitation is the sincerest form of flattery, but we wonder how she feels about her doppelgangers.
Here are some girls you'd swear look just like Kylie Jenner.
Kyleigh Potts: 
Whether you think she was successful or not, you have to admire the commitment from Kyleigh Potts. She spent over $70,000 on cosmetic surgery to look more like Kylie Jenner.
Kyleigh is a transgender woman and she says that becoming more like Kylie was the ultimate goal of her transition. Her enhancements include lip fillers, a chin implant and a breast augmentation. She says that she watched Kylie come into her own and become more beautiful with time.
Her surgeries have given her a new sense of confidence and a newfound happiness.
Gabrielle Waters: 
Gabrielle Waters is a longtime fan of Kylie Jenner and claims that their resemblance is mostly coincidence. Since she works at a retirement home, Gabrielle just stabbed all day to work on imitating Kylie. She uses some fake eyelashes and of course a Kylie lip kit in order to pull off the look.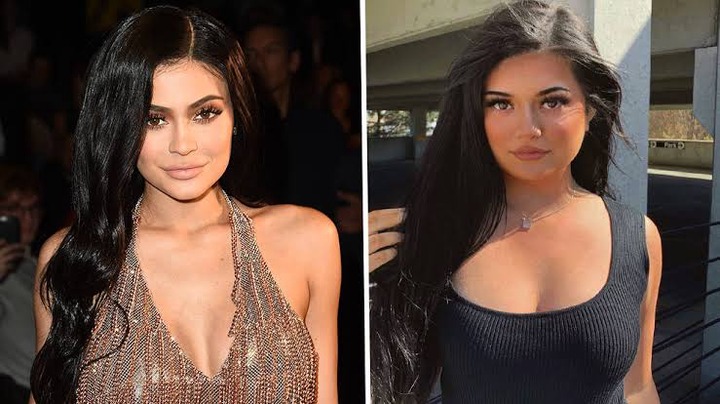 Although she obviously likes the way Kylie looks, Gabrielle claims that isn't her favourite thing about her. She loves Kylie's independence and the way that she encourages others to do what they love.
Nicole Williams: 
Not only does Nicole Williams look exactly like Kylie Jenner, but she's also a model as well. She has a massive social media following. Her fans have been quick to point out her resemblance to Kylie. Although the resemblance may work out well for Nicole, some say that Kylie isn't thrilled.
Sources claimed that Kylie is irritated by the resemblance and even told Tyga to replace her with Nicole in the video for 'Doped-up.' Since Nicole is older than Kylie, we are surprised she isn't just excited to get a sneak peek at her future look.
Kelsey Calemine: 
Being a celebrity doppelganger is pretty awesome, but with Kelsey Calemine, you get two celebs at once. Actress Lucy Hale was shocked when she came across a photo of Kelsey and quickly posted it on social media.
She claims that the girl looks just like a combination of herself and Kylie Jenner. While that would be a strange pairing and one that would make Jordyn Woods jealous, we can totally see the resemblance.
Her gorgeous facial features look like the perfect matchup of the two stars. Scrolling through Kelsey's Instagram, you'll see many pics you may confuse for Kylie or Lucy at first glance.
Sonia and Fyza Ali: 
Makeup artist and beauty bloggers are a dime a dozen nowadays, so sister Sonia and Fyza Ali decided to stand out. They did so by transforming into some of the most recognizable faces out there – Kim Kardashian and Kylie Jenner.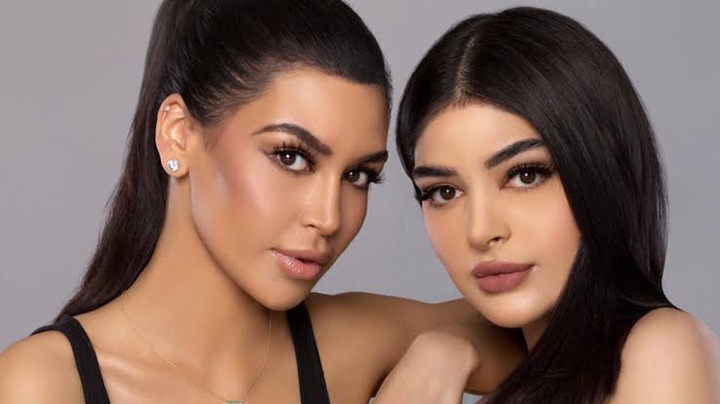 Even without the addition of makeup, the pair do looked eerily similar to Kim and Kylie. But adding their makeup hair and posing, you'll get an uncanny feeling of deja vu. But one big difference is that Sonia and Fyza have to hire their own photographers to take pictures of them when they're out and about.
Bebe Rexha: 
Unlike many Kylie Jenner look-alikes, Bebe Rexha claims that the resemblance is 100% unintentional. Once Bebe began gaining followers, they couldn't help but call out her resemblance to Kylie Jenner.
The nail in her coffin was when Kylie was blonde. Fans began accusing Bebe of being a wannabe Kylie even though she had been blonde first. Bebe admitted that she sees the uncanny resemblance as well and sometimes has to do a double-check to see whether it's her or Kylie in a photo.
However, she claims that her career keeps her too busy to worry about the similarities. She's just doing her own thing regardless of how much she looks like Kylie Jenner.
CVS: 
We don't mind admitting that we were among the ones fooled by this Kylie Jenner twin. With Kylie in hiding during her pregnancy, many fans and news outlets were desperate for any information.
Read: What people find attractive in women from 5 different countries of the world.
So when we saw a pregnant woman wearing sunglasses, a baggy sweatshirt and looking just like Kylie, we were hasty in our identification. But with the new hairdo and some trendy clothes, this woman could have a new job as a Kylie Jenner's impersonator.
Amira Boualleg: 
There was no shortage of fans trying to emulate Kylie Jenner, but few pull it off as well as Amira Boualleg. At only 16, this girl from Algeria is became a sensation on Instagram due to her mimicking of Kylie.
Rather than claim the resemblance is a coincidence, Amira admits that she uses a lot of makeup and posing to get the signature Kylie look. But humourously enough, Kylie isn't her favourite member of the Kardashian family.
Amira Boualleg is much more of a Khloe Kardashian fan. Although she does want to create her own cosmetic product someday just like Kylie Jenner.
Ariel Winters: 
Fans have noticed something strange about Ariel winters and they're not any happier about it than Kylie is. Kylie is a fashion icon but Ariel seems to be borrowing a bit too many of her looks. In fact, it looks like she's trying to become Kylie Jenner and rumor has it Kylie isn't thrilled.
Not only do her outfits look the same, but she's been emulating her poses and selfies on social media. Since Kylie is the queen of social media and having to take a rest by virtue of her baby, we can see why she's annoyed.
Wax Figure: 
If you're someone who has accused Kylie Jenner of looking fake, you'll probably find this especially amusing. The artist behind Madame Tussauds recently outdid themselves when they unveiled their wax figure of Kylie Jenner.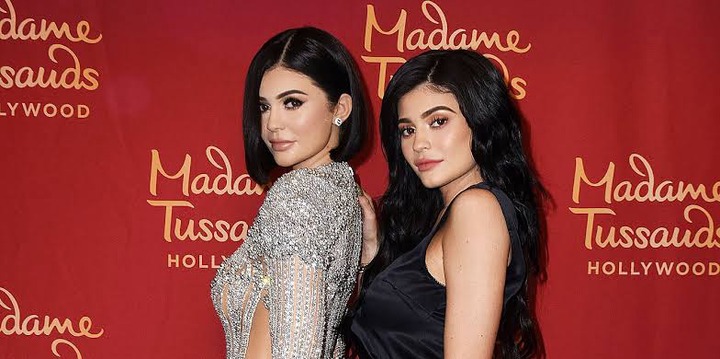 When the photos surfaced online, some people thought that the wax figure looked more realistic than Kylie herself. It was modeled after Kylie's look from the 2016 Met Gala and is even wearing the same dress. From the clothes to the pose, this wax figure is just a little too uncanny valley for our tastes!
When the photos surfaced online, some people thought that the wax figure looked more realistic than Kylie herself. It was modeled after Kylie's look from the 2016 Met Gala and is even wearing the same dress. From the clothes to the pose, this wax figure is just a little too uncanny valley for our tastes!