Ronaldinho Says He Wasn't Aware The Passport That Landed Him In Jail Was Fake
Barcelona legend Ronaldinho has disclosed that he wasn't aware the passport he travelled with was not legal.
Ronaldinho and his brother entered Paraguay on March 4, 2020 with false passports that had been given to them as a gift.
They were reportedly going to take part in the launching of an online casino and in the unveiling of a book Craque da Vida before they got apprehended and put behind bars in a Paraguayan prison.
While speaking on his first interview with Paraguay's ABC TV's Crime and Punishment, the 40-year-old said they "were completely surprised to find out that the documents were not legal".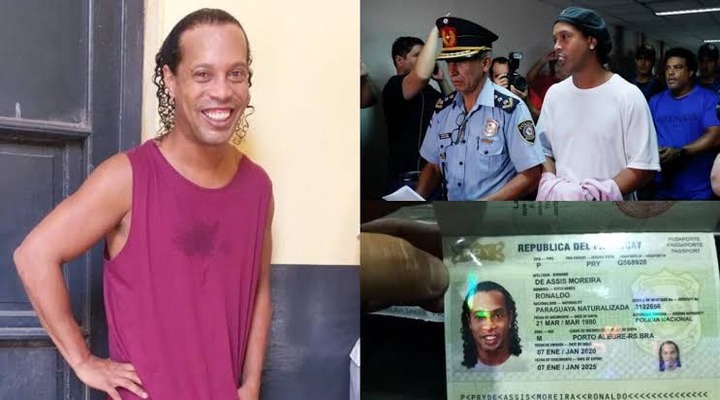 "It [going to jail] was a tough blow," he said. "I never imagined that I would go through a situation like this.
"All of my life I have searched to reach the top level professionally and to bring joy with my football.
"I hope that they can use and confirm all that we have brought to this case and that we can come out of this situation as soon as possible."
"We were completely surprised to find out that the documents were not legal."
"Since then, our aim has been to cooperate with the justice [department] in order to clarify the facts as we have done from the beginning. Since that time up to now, we have explained everything and facilitated all that the justice [department] has requested."
Ronaldinho, who is currently staying in a luxury suite at the Palmaroga hotel, also thanked the Paraguay people for their hospitality but expressed his desperation to go home once he's permitted to do so.
"The first thing I will do is to give my mother a big kiss," he said. "She is at home going through a difficult time since the COVID-19 pandemic started.
"Then to absorb the impact that this situation has had and move forward with faith and strength."
"To play football, sign autographs, have photographs taken is part of my life."
"I have no reason to stop doing it, more so with people that are going through a difficult time as I am."
The Brazilian and his brother spent 32 days in prison before being transferred to a hotel under the supervision of the police.