Read Arturo Vidal's epic response to Lionel Messi's heartfelt tribute
Arturo Vidal has responded to a heartfelt farewell message sent to him by his friend and Barcelona teammate Lionel Messi.
Ahead of Vidal's imminent transfer to Inter Milan this week, Lionel Messi, one of his closest friends in Barcelona took to Instagram to compose an emotional tribute to the Chilean.
Messi admitted in his message that he will miss Vidal after spending two wonderful years with him. He also wished him well in his new club.
"I only knew you from facing up against each other and you always seemed a phenomenon, but after I was lucky enough to get to know you personally and you surprised me even more," the captain wrote on Instagram.
"They were two years sharing a lot and you made yourself noticed a lot. The dressing room will miss you, Arturo.
"I wish you the best in this new era and your new club. We'll meet again for sure."
Vidal 33, responded to Messi's message in an epic fashion, referring to the Argentine as an alien and the greatest of all time.
He wrote:
"Thank you @leomessi alien!!! It has been an honour to play with the greatest of all time, thanks a lot for your friendship. I already miss you all. See you soon."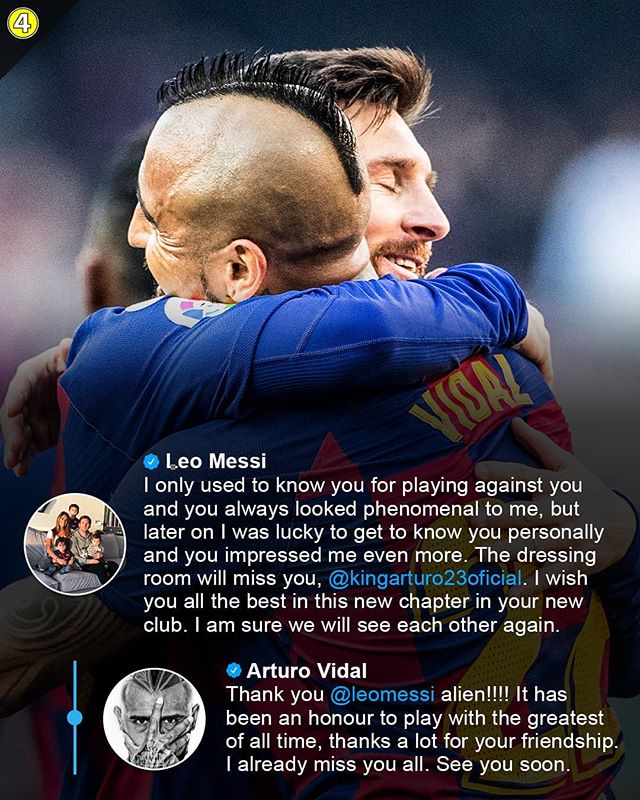 Vidal shared an awesome relationship with Lionel Messi and Luis Suarez during his two-year spell in Catalonia.
His departure came as a result of several calls by the board to freshen up the squad by offloading some senior players which includes Vidal, Luis Suarez and Ivan Rakitic.
He is currently in Milan to finalize his €1 million (£900,000) move to Antonio Conte's side.
With some of his closest friends already departing, what must Barcelona do to keep Messi happy in Camp Nou. Read more about it here.
Law Blessing is a skilled writer with loads of experience in the field. Although a freelance Author, he's passionately involved in articles related to sports and entertainment.