Lionel Messi's six football records that may never be broken
As long as football is concerned, there is a name that stands out as a standard of measurement of greatness, that name is Lionel Messi.
Ever since the Argentine maestro began his professional career, he has not only entertained the world with his unique football style, but he has created some unimaginable records that may never be broken by anyone.
Below are some of them:
1. Most goals for a single club
Lionel Messi surpassed Brazil's Pele to become the all-time highest goalscorer for a single club after scoring his 644th goal for Barcelona during their 3-0 La Liga victory over Real Valladolid on December 22.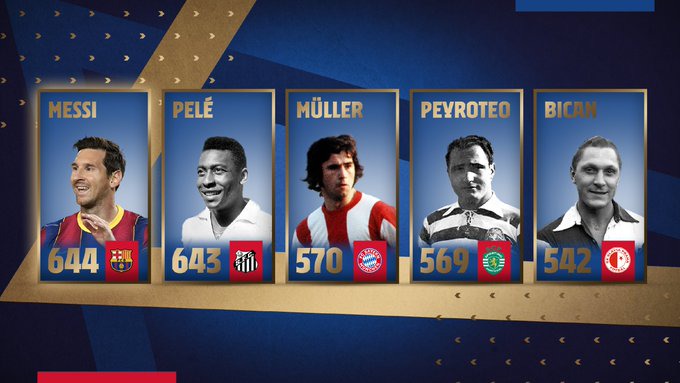 Pele enjoyed that all-time record of 643 goals with Brazilian side Santos, until Messi showed up. His goal against Valencia on December 19, equalled the record before he finally seized it with another against Valladolid.
Related: Read Messi's Statement After Overtaken The Goal Scoring Record Previously Held By Pele
To have someone score those number of goals for a single club might be equivalent to searching for the impossible.
2. Most goals in a calendar year (91 goals)
The highlight of Lionel Messi's career was in 2012 when he did the unimaginable by scoring 91 goals in just one calendar year.
While most players struggle to reach 50, Messi had a hand in 120 goals (91 goals and 29 assists) for club and country in 2012. The craziest aspect of it was that he featured in only 69 games.
Messi's magical 2012 will never, ever be repeated again, trust me.
3. Six European golden boots
Lionel Messi is the only player to win 6 European golden shoes (2009, 2011, 2012, 2016, 2017, 2018). He is also the only the player to win the award in three consecutive seasons.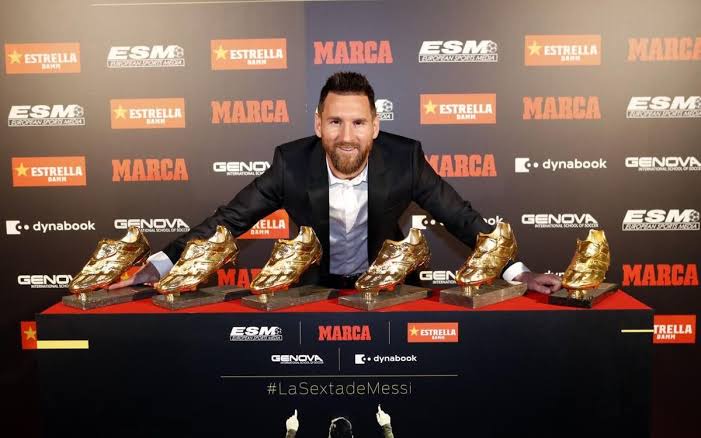 His closest rival Cristiano Ronaldo has won the award four times. If a goalscorer like him does not succeed in breaking Messi's record, I don't know who will.
4. Seven Pichichi awards
It took more than six decades for someone to summon the courage to surpass Telmo Zarra's long-standing record of 6 Pichichi (an award that is received by the top scorer in the La Liga). That person is none other than Leo.
The 33-year-old magician picked up the award for the seventh time in his career, after scoring 25 goals in 33 games during the 2019/20 La Liga season. He may likely win a couple more before hanging his big boots.
Related: UEFA Champions League group stage records
If it could take that long for Messi to surpass Zarra's record, I can't imagine how long it'll for someone to surpass Messi.
5. Highest number of assists
Most people consider Lionel Messi as the greatest of all time, not just because of his records but what he's capable of doing with the ball at his feet.
Messi is not just a great goalscorer, but he's the greatest playmaker the world has ever seen. The Argentine captain has recorded the most assists in football history since the year 2000, with an impressive 320 assists to his name.
His closest rival Cristiano Ronaldo has assisted 258 times and it's almost impossible for him or anyone to surpass that record.
6. Six Ballon d'Or awards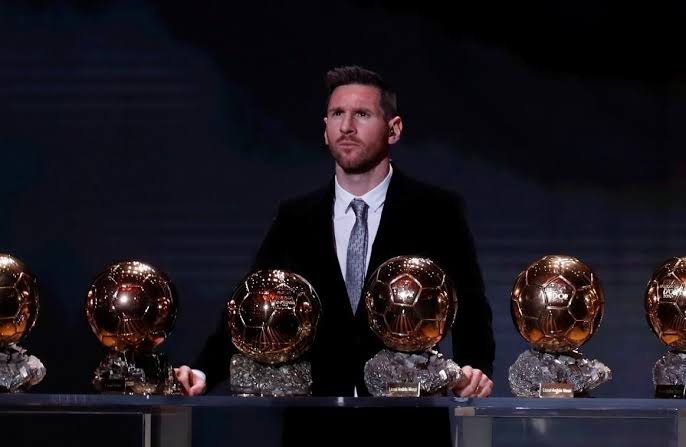 This shouldn't have been included in the list, especially when a genius like Cristiano Ronaldo (with 5 Ballon d'Or awards) is still in the game and hungry for more.
However, if Ronaldo decides to retire from football without equalling his rival's six Ballon d'Or titles, then it would will be very unlikely for anyone to do so.
Latest posts by Law Blessing
(see all)