Henderson In Awe Of Lionel Messi's Football Style
Liverpool midfielder Jordan Henderson has expressed his admiration for Barcelona FC No.10, Lionel Messi.
In one of his recent interviews, the 29-year-old talked about Lionel Messi's performance and his stunning free-kick goal in the 3-0 game at the Camp Nou in the Champions League semi-final last year.
Henderson who had a first time encounter with Messi on a pitch, said the Argentine plays the game quitedifferently to when you see him on TV.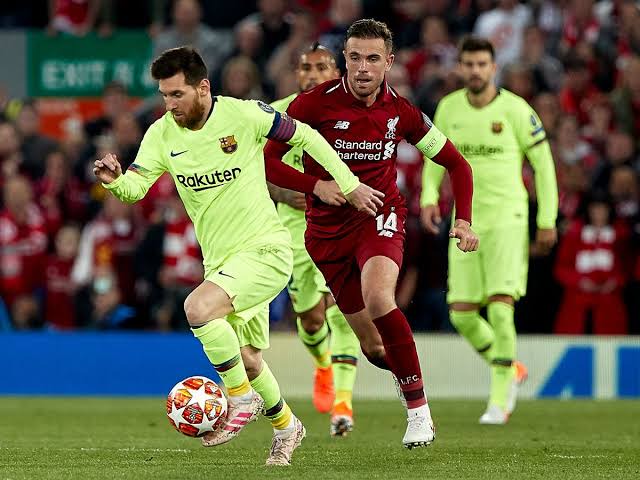 "As it turned out, I came on quite early as Naby Keïta got injured. It was the first time I had been on a pitch with Lionel Messi.
"You don't think to yourself 'Oh my God — that's him,' but there's no question he plays the game differently to when you see him on TV. He's so fast," Jordan says.
Also speaking on Messi's free kick goal in that game, the inspirational captain said he couldn't believe his eyes when Messi whipped a shot into the net of a very experienced Alisson Becker.
"Thinking about his free-kick now, I still can't believe he scored it. I actually thought he was going to take it short. I've told you how good I think Ali [Alisson] is, but Messi put that shot in the one area Ali couldn't protect. The whip, the pace, the precision — it was absolutely perfect.", said Henderson.
He further stated the reason why he didn't ask for Lionel Messi's jersey after the game.
"Did I think about asking for his shirt? No. I've never done it. Roy Keane told me when I was at Sunderland that if you ask for someone's shirt, it looks like you are in awe of them.
"As it turned out, I came home with Luis Suárez's shirt. Luis is a good lad and he gave me it as a gesture as we had played together for Liverpool. I don't know what he's done with mine!"
Law Blessing is a skilled writer with loads of experience in the field. Although a freelance Author, he's passionately involved in articles related to sports and entertainment.