Anthony Joshua evokes a revenge against Oleksandr Usyk
Beaten at home against the Ukrainian Oleksandr Usyk on Saturday night, Anthony Joshua wasted no time in evoking a new fight against his executioner.
Having made only two fights in the weight class before this duel at the top for the belts of the world champion, Oleksandr Usyk took the best of Anthony Joshua at the Tottenham Hotspur Stadium on Saturday night, winning the belt of Joshua's world champion.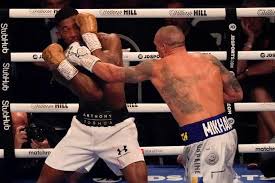 Still wishing to become the undisputed champion of this category, Anthony Joshua immediately spoke of a rematch against Usyk.
Speaking after his defeat in an interview reported by Sky Sports Anthony Joshua said:
"If I want revenge?" 100 per cent. 110 percent. I am ready to resume training. Thanks to the 12 rounds, my lungs and everything, it was a good 12 rounds, so I'll be in a good position when I resume training to pick up where we left off."
It remains to be seen when this confrontation will take place now.
Latest posts by Law Blessing
(see all)