Yul Edochie: Nigerian Youths Are Not Leaders, They 'Sell Their Souls For Money'
Nollywood actor Yul Edochie has made a controversial statement on social media as regards to why Nigerian youths are constantly overlooked by the 'old guys' for leadership positions.
The actor who turned politician says the reason for that neglect boils down to the bad traits the younger generation exhibits.
According to Yul's statement, the so-called 'old guys' in power are eager to hand over to the youths, but sadly the current crop of the younger generation are not worthy of positions of authority.
He wrote on Instagram:
"Contrary to what you think, the old guys in power are constantly look for youths to hand over to.
"But what they see is youths insulting each other on social media, who can't stand together & fight for anything, youths who'll sell their souls for money.
They hardly see Leaders."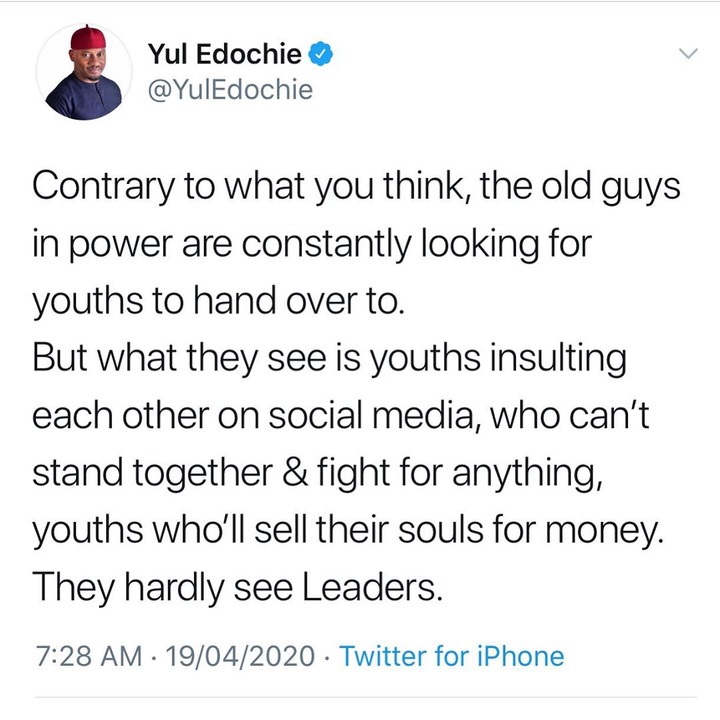 As bitter as it may sound, that seem to be the truth. Although, ideally youths should be the leaders of today, due to their advanced knowledge of the modern world.
However, it would be catastrophic to hand over such delicate positions to irresponsible ones.