A highly infuriated lady couldn't hide her frustration after reading the tribute of popular media personality Ifedayo Olarinde a.k.a. Daddy Freeze to a late #EndSARS protester.
Daddy Freeze recently took to his Instagram page to pen a heartfelt tribute to a young man named 'Oke', who was murdered during the #EndSARS protest. The first sentence he wrote was 'Rest In Peace', which is almost a norm in such tributes.
"Rest In Peace OKE. Did he really deserve to die???The pain, the grief, the tears are too many. LORD have mercy on us!" he wrote, posting a picture of the deceased.
In response to that tribute, a certain lady named hersweetmajesty1 warned the Daddy Freeze not to say 'Rest In Peace' to people who were killed.
She wrote:
"Stop telling those people to rest in peace, you don't have the right, you are not the one dead, wait till they kill you, then you can choose to rest in peace. To the dead I say, do whatever pleases you if you still have that power, if you don't want to rest please, pursue and overtake your killers, revenge your death in any way, form or manner you deem fit, your murder was premeditated and executed! It is cowardice to tell the murdered to rest in peace, I'm not a coward, so I won't tell you that, please do not rest in peace if you choose until you get justice!!!"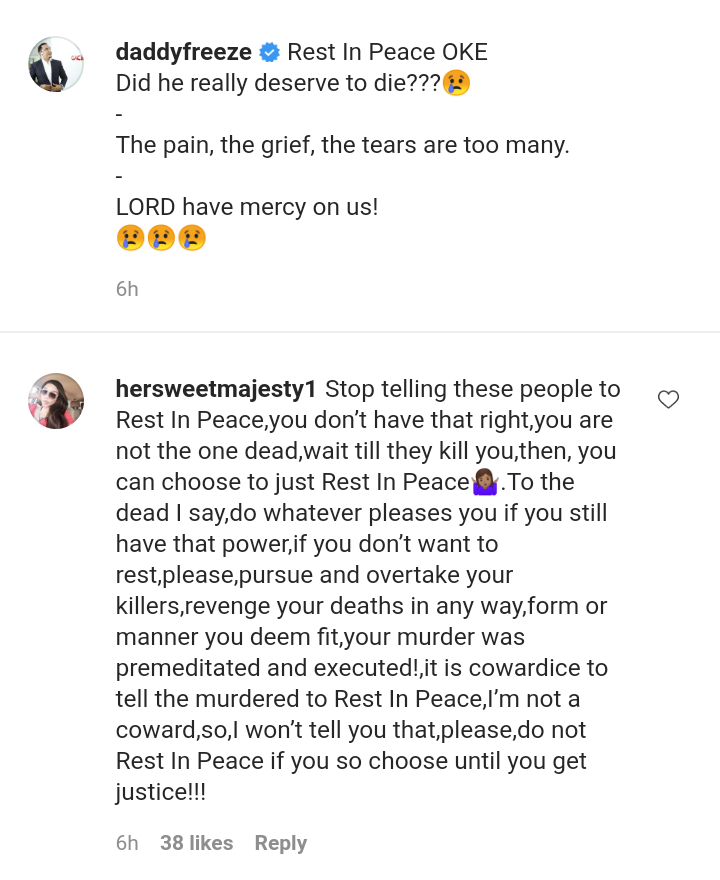 Related: Video: Nedu Wazobia forces Ozo to speak Igbo during the #EndSARS campaign